A Legislative Flagpole War by Larry Price – Midweek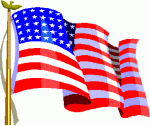 There is really nothing comical about a Republican-proposed bill being unceremoniously deferred, because it happens every session. It's the reason given for the deferral, which angered many taxpayers and veterans, that makes it comical. The legislators, obviously fearing an election year backlash, said the deferral was "because of a lack of public support, as no one showed up in person during the original hearing to testify." 
What?
There is strong and convincing evidence that they were being duplicitous from the beginning of the poorly conceived comedy. They scheduled another hasty committee meeting at the state Capitol. Because of the state's Sunshine Laws, they have to post the meeting times and agenda on the Capitol bulletin board for all to see 48 hours prior to the meeting. Of course, if you don't frequent the state Capitol, you would not be aware that the Capitol bulletin board is in the basement (parking lot) past the security office. I'm sure they must have the agendas and decision-making  announcements at many other locations, including their self-serving Web sites.
 So what time do they schedule the new hearing time to ensure maximum attendance? The next day after the original hearing, starting a 9:10 a.m. in the House Conference Room 325! How many taxpayers and veterans do you know who are available to show up at the Capitol at 9:10 in the morning with 20 copies of their testimony?  Probably not many. This is not new for "hot button" bills that could damage the electability of sitting representatives of the Democratic persuasion.
Don't get the wrong idea – there is nothing illegal about this political tactic. It's actually the smart thing to do. The problem is that military veterans are not aware of the game. They are used to facing the enemy and being prepared to lay their lives on the line to defend their country. Sneaking around conference rooms early in the morning, after finding parking within a death march of the Capitol is not what they are trained for. 
If this bill comes up for final passage, the best way to get their point across would be to show up with a company of battle-tested veterans in America's last four wars, in full battle regalia, to scare the legislators out of their antipatriotic funk. It might be a good idea to have more elected officials who have served the military and understand  things like accomplishing the mission and protecting the American flag.  The shabby excuse they used for deferring HB 2311 was insulting because, more often than not, legislators don't  care what the voters think or want. If they did, then these kinds of insults would not occur. Find this article at:
http://www.midweek.com/content/columns/therightprice_article/a_legislative_flagpole_war/ Midweek.com – Print A Legislative Flagpole War Page 1 of 1